Adhesives & Sealants: Red Devil Wall Damage Repair Kit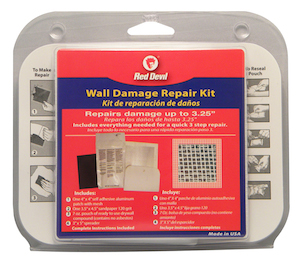 Red Devil's new Wall Damage Repair Kit is perfect for any DIYer with damage on their interior walls and is conveniently packaged for smaller jobs, eliminating added expense or waste.
With everything needed and in just the right size, the kit can help patch up those holes, cracks and dents that annoy you every time you look at your walls.
"The Wall Damage Kit is another convenient way for Red Devil to help save consumers time and money, enabling easy repairs of walls from everyday household damage," said Alan Crupper, VP Marketing, Red Devil Inc. "There's no need to buy a large tub of wall spackle or tools, when this kit has it all at a very reasonable price."
The Wall Damage Repair kit can repair damaged areas up to 3.25 inches diameter and includes everything needed for a three-step repair. It comes with a 4 X 4 inch self-adhesive aluminum patch with mesh; a 3.5 X 4. inch sheet of sandpaper; a 7 oz. pouch of drywall compound that is resealable; a 3 X 5 inch spreader and complete instructions to tackle any damaged wall.
To apply, simply adhere the patch to the damaged area, spread the drywall compound to cover it completely and let it dry according to the instructions. Then sand smooth and finish with a damp sponge.