Anchors: Large Diameter Tapcon Anchors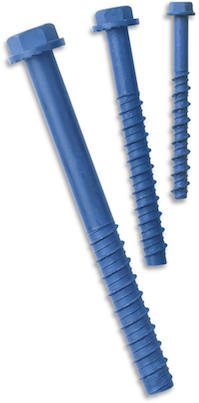 ITW announces three Large Diameter Tapcon Concrete Screw Anchors that are faster to install and perform better than sleeve and wedge anchors, which translates to an increase in contractor productivity and profitability.
These new Made In The USA Large Diameter Tapcon Anchors are available in 1/2" x 6", 3/8" x 3", 3/8" x 4", 5/16" x 2" and 5/16 x 3" sizes, and their innovative technology means easier, faster and more secure (see "Proof in the Testing" below) anchoring into concrete, block and brick in a wide variety of residential, commercial and industrial applications.
The new Tapcon anchors feature Advanced Threadform Technology which translates into 30 percent lower installation torque and 20 percent more holding power.
Large Diameter Tapcon Anchors are 50 percent faster to install as they do not require assembling, driving, tightening and torqueing. Simply drill the hole and drive the Tapcon Anchor. Large Diameter Tapcon Anchors feature an induction hardened tip that is engineered to cut into concrete and brick, and increases pullout strength.
"Contractors will appreciate our new Tapcon Anchors for their ease of installation," said Laszlo Hullam, National Marketing Manager for Tapcon. "Traditional anchors have many steps. First they have to be assembled, then you drill the hole, clean the hole, then pound the anchor in with a hammer and then tightened or torque down with a wrench. With Tapcon Anchors, it's a simple two step installation: you drill then drive the Tapcon Anchor with an impact driver, that's it. And with more contactors using cordless impact drivers, the reduced torque requirement will increase tool and battery life, adding to jobsite productivity."
Another Key Feature: These new Tapcon Anchors are cracked and seismic approved with 2012 building code compliance, as per ICC-ES ESR-2202, providing a level of assurance contractors appreciate when the Building Inspector arrives. In addition, Tapcon offers the only 5/16" diameter seismic approved anchor on the market today. (Note: the 5/16" x 3" Tapcon Anchor is the perfect anchor for installation of windows or doors into concrete or masonry where codes require cracked and seismic approval).
Other Tapcon Anchor features that make this the "go to" anchor for professional contractors include:
Close-to-edge and close-to-anchor placement – unlike wedge and sleeve anchors, Tapcon Anchors have no expansion or outward pressure so they can be placed closer in proximity to an edge or other Tapcon Anchors.
Easy removal by simply unscrewing the anchor – traditional anchors cannot be removed.
Finished head – for a uniform profile and aesthetic appeal.
Blue Climaseal coating – provides corrosion protection for outside applications.
Recommended for use in ACQ pressure-treated lumber.
Proof in the Testing
In comparative mechanical anchor testing done by the ITW Red Head Testing Laboratory, under International Accreditation Service listing TL-440, the ultimate tension load for the 3/8" Tapcon Anchor was 10 percent higher than a wedge anchor and 28 percent higher than a sleeve anchor. The ultimate shear load for the 3/8" Tapcon Anchor was 46 percent higher than a wedge anchor and 129 percent higher than a sleeve anchor.
The comparative testing of the 1/2" Tapcon Anchor demonstrated that the ultimate tension load of the anchor was equal to a wedge anchor and 22 percent higher than a sleeve anchor. Upon review of the ultimate shear testing the 1/2" Tapcon Anchor was 53 percent higher than a wedge anchor and 89 percent higher than a sleeve anchor.
Tapcon Anchors are perfect for a wide variety of applications by contractors, builders and remodelers, including: Sill Plates, Door & window frames, Fences, Jambs, Decks, 2 x 4 lumber, Awnings, Brackets for shelving, Electrical junction boxes, HVAC strapping, Hurricane protection, Plywood backer boards, Machinery equipment, Railing, Seating, Pool cages, Racking
With the new larger diameter sizes, Tapcon Anchors are now available in a full range of diameters, including 3/16", 1/4", 5/16", 3/8" and 1/2".