Anchors: Simpson Steel Framing, Joist and Stud Connectors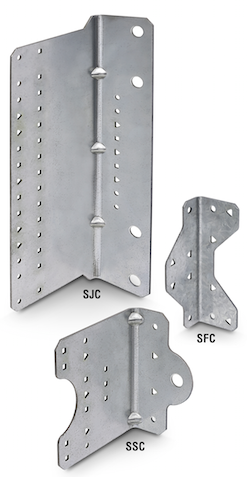 Simpson Strong-Tie introduces three new innovative, cost-saving utility clips for cold-formed steel construction: the SFC steel framing connector, the SJC steel joist connector and the SSC steel stud connector.
New features include pre-punched holes for anchoring to steel or concrete and intuitive fastener hole patterns to satisfy the structural needs of Designers and simplify installation for contractors. All three new utility clip connectors have been thoroughly tested by Simpson Strong-Tie.
"We are the only company providing application testing for this category of products," said Randy Daudet, P.E., Cold-Formed Steel Industry manager at Simpson Strong-Tie. "This ensures that system structural behavior is captured in load tables – saving Designers calculation time and mitigating design risk."
Key features of each of the new utility clips include:
SSC Steel Stud Connector
SSC connectors enable easy installation on the open side of studs or joists with flanges up to 3" long and return lips up to 3/4". Typical applications include curtainwall headers and sills, load-bearing headers, base of jamb, bypass framing, kneewalls, u-channel, joist framing, stud and joist blocking, rafter supports, and jack trusses.
SJC Steel Joist Connector
SJC connectors are specifically designed for various cold-formed steel joists and rafters as well as the underside of steel deck applications. They enable easy installation on the open side of joists and rafters with up to 3 ½" flanges and return lips up to ¾". Typical applications include joist and rafter framing, kickers, joist blocking, and framing to masonry and concrete.
SFC Steel Framing Connector
SFC connectors are multi-use for light to moderate loading conditions in cold-formed steel stud-to-stud and stud-to-structure applications. They are ideal where long leg lengths are not required. Applications include curtain wall headers and sills, bypass framing, u-channel bridging, and stud and joist blocking.
To learn more about the new utility clips, visit www.strongtie.com/cfs.