Larson Nozzle Mount LED Blasting Gun Light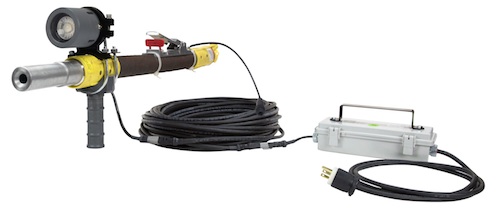 The Larson Electronics BLG-LEDBLT-HGL-X24I Work Area Nozzle Mount LED Blasting Gun Light with Handle, Quick-change lens, and inline transformer features a 18 watt LED that produces 1,530 lumens of intense LED illumination and is designed for extreme durability in media blasting applications.
This powerful LED light is designed to be mounted to any standard blasting gun (blasting gun is not included with this LED light). This nozzle-mount LED blast light operaters on standard 120/277V AC 50/60Hz stepped down to 24V DC via an inline transformer, and includes 100' of SOOW between the light and transformer.
This nozzle mount LED blasting gun light features a specially designed mounting system which allows the unit to be attached to the end of any standard blasting gun and features a polycarbonate handle to help stabilize the blast gun during operation. This mount includes all necessary mounting hardware and a protective lens cover that can be removed and replaced even when wearing gloves.
The protective lens is a simple drop in, drop out configuration behind a twist-on lens frame, allowing operators to twist the lens off and drop in a one as the lens is worn out by exposure to blasting materials such as coal slag, sand and baking soda. The lens is held in place by the delrin twist-on lens holder. A slot in the bottom of the lens holder allows particles to clear when performing lens changes.
A specially designed mounting system and quick change protective shield allows operators to use this unit as a blasting gun mounted light source that will stand up to abusive use. The protective lens is offered in polycarbonate or hardened glass materials. The polycarbonate lenses are for metal blast materials, while the glass lenses are for smaller abrasives.