Appleton Extra-Duty Rated Weatherproof In-Use Covers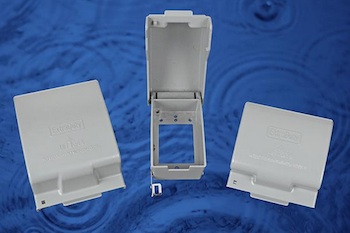 Appleton has launched a new line of Extra-Duty rated weatherproof in-use covers designed to protect switches, GFCI's and receptacles against the harshest outdoor elements.
Available in one-gang and two-gang models, the new covers comply with the latest NEC standards for Extra-Duty outlet box hoods now required for any installation other than family dwellings.
The die-cast aluminum, impact-resistant covers are virtually indestructible, sporting features that include a reinforced hinge stress-tested to 40 pounds; a lockable cover that prevents tampering; and an extra-large cord opening that fits the heavy-gauge cords used in industrial and commercial applications.
Installation is quick and efficient. An adhesive sealing gasket comes factory installed to ease installation, while device inserts snap into place without the use of tools. Several adapter plates are available to accommodate single or duplex receptacles, GFCIs, switches, or round boxes of multiple sizes.
In addition, the multi-height lever adjusts to create a cover depth of 2-3/4" or 3-1/2", enabling contractors to use one cover for multiple applications and reducing the need to stock extra inventory.
Appleton in-use covers meet UL Standard 514D, CSA Standard C22.1 and cULus E2527.
For more information, visit www.appletonelec.com