Nemalux MR LED Luminaire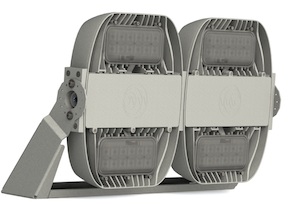 Nemalux, a leading supplier of industrial LED lighting solutions introduces the MR LED luminaire, taking lighting versatility to a whole new level. The MR fixture, with its' rich features, offers an unprecedented level of flexibility for the replacement of traditional 75-250 Watt HID fixtures.
The MR was created to respond to strong client demand for a multi-function LED luminaire that could be configured to fit a number of commercial and industrial lighting scenarios. By leveraging years of experience designing and manufacturing LED fixtures for some of the world's harshest environments, Nemalux has created a universal LED lighting fixture.
The significant variety of luminaires used for common lighting applications can create major challenges during the lighting design, procurement, construction and facility maintenance process. The Nemalux MR, with its unprecedented level of configurability offers facilities managers a universal luminaire solution, making stocking issues a thing of the past.
Boasting 4 standard and 20 custom optical beam distributions, the MR can be configured for a large variety of lighting patterns. Five adjustable brackets cover almost every mounting option. With a 66 mm low profile housing, the MR can fit into the confined spaces and pending CID2 ratings enables operation in hazardous locations.
Meanwhile, a triple layer coating makes it suitable for coastal applications and unique finned design helps it run at maximum efficiency, even at 55°C. With pending IP66/67 rating, this LED luminaire is suitable for both outdoor and indoor use.
With an unrivaled feature set, the industrially hardened MR LED luminaire can be configured to meet a wide range of lighting applications in the industry. For more information: http://nemalux.com/products-main/all-products/mr/ email: info@nemalux.com website: http://nemalux.com