General Tools Model 861 E-Z Pro Dovetailer II Jig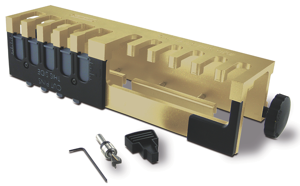 General Tools & Instruments continues to grow and enhance its EZ Pro Line of Precision Wood Joining Jigs to provide cost-effective, innovative and unrivaled tools capable of producing professional level Dovetail, Box, Mortise and Tenon, Pocket Hole and Dowel joints. Big, expensive and complex joining set-ups are no longer necessary.
With the addition of a router or drill, General's new and improved, easy-to-use jigs enable woodworkers to produce professional joints right-out-of-the-box. All of the jigs were designed in-house by General's engineering team, are compact and portable, and are now anodized in a gold color to impede corrosion.
The EZ Pro Dovetailer II Jig (Model #861) is the newest addition to the EZ Pro line. This jig is General's answer to producing strong, precise dovetail joints quickly and easily. Produce half-blind or through dovetail joints or box joints using only your router. Its self-aligning design ensures that both ends of the dovetail joint match up evenly every time. The Dovetailer II is perfect for furniture building, cabinet making and other professional carpentry projects. New features:
Control knobs assure comfortable, accurate and safe use with a router table.
Stabilizer foot (bar) provides better control of cuts.
Enhanced clamping system with three-point knobs improves torque and grip, and more firmly secures wood in jig.
Improved plastic guides produce more accurate cuts.
New markings clearly indicate which side to use for which cut (i.e., pins or tails).