Wacker Neuson EH 65/120 Electric Breaker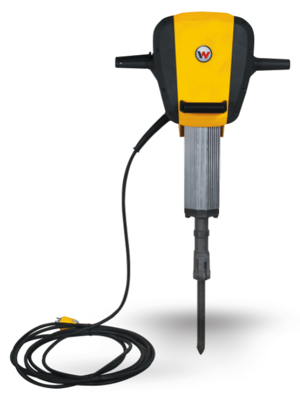 Wacker Neuson's new electric breaker offers a unique and powerful demolition tool to the US construction market. The EH 65/120 exceeds the leading competitor's electric breaker in power to weight ratio and percussion rate. The EH 65/120 has first-class vibration dampening with hand arm vibration less than 5 m/s². The efficient full-hood vibration dampening system provides additional user comfort for all day applications.
The EH 65 is light, quick and powerful, providing an efficient breaker of concrete for a variety of applications. It weighs only 57 lbs and hits with 47.9 foot pounds (65 Joules). With the high percussion rate of 1060 blows per minute, the EH 65 offers a high power-to-weight ratio compared to any breaker in its size class.
This new tool paves the way for a new class of electric tools since it can meet the performance of 60-70 pound pneumatic hammers, but eliminate the need to tow a compressor. Wacker Neuson's new EH 65 and a small portable generator can easily fit in the back of a pick up truck.
The EH 65's outstanding performance and extremely high breaking output is the result of new hollow piston percussion system with a rod striker and patented shockwave-optimized percussion system along with the high single stroke energy. Added to the excellent performance, this new breaker has a patented full hood vibration dampening design that reduces vibration to the operator with hand-arm vibration values at less than 5 m/s2. This reduced vibration along with additional vibration isolated handles and its overall lightweight, allows the operator to run the unit for longer periods of time, enhancing overall production.
Wacker Neuson's EH 65 is powered by a brushless three phase motor and offers consistent power supply even when using a long extension cord. The inverter protects the tool with an automatic shut off if input voltage is too low or too high, providing for long life and unmatched durability. By eliminating the traditional rotor and carbon brushes found on competitive models, Wacker Neuson has in effect eliminated the need for maintenance on this tool. With no brushes to replace or winding failures to contend with contractors can be assured that this tool will provide the best uptime in the industry.
The combination of high demolition power and a sturdy durable design makes the EH 65 extremely cost efficient and the only servicing required is occasional on-site lubrication. The EH 65 was designed for intensive use over long periods so it can be used to demolish large quantities of concrete, brickwork or asphalt, offering contractors or rental houses a new breaker alternative for their fleet.