Minnich Back Pack Concrete Vibrators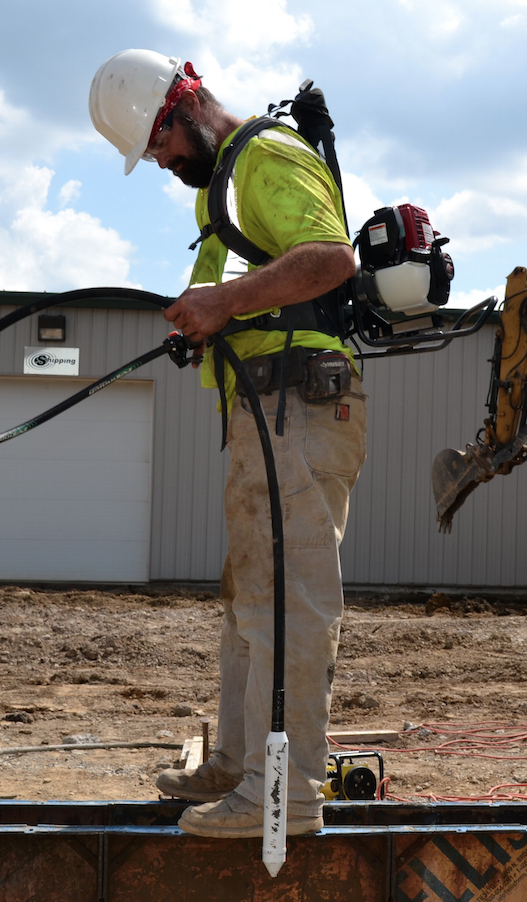 Minnich Manufacturing, the leading manufacturer of concrete dowel pin drills, concrete vibrators and vibrator monitoring systems, introduced new and improved gas-powered back pack concrete vibrators at CONEXPO-CON/AGG 2017 in Las Vegas.
The new Minnich 50 cc back pack model and the updated 35 cc unit are designed to maximize operator comfort, mobility and productivity during concrete consolidation.
All-new features of the powerful and lightweight 50 cc and 35 cc back pack configurations will include:
An ergonomically designed, fully adjustable harness that reduces strain and fatigue.
A throttle assembly with combined quick disconnect that allows the core/casing to be changed out in seconds.
A throttle assembly that is part of the core casing, enabling operators to use both hands to lower and lift the vibrator into and out of the concrete.
A throttle lock that lets operators move their hands up and down the core/casing while lifting and lowering.
Each model will be equipped with a Honda mini 4-stroke engine for reliable performance, and the 35 cc version will have an all-position diaphragm carburetor for operation in any position without stalling.
The new back pack vibrators are expected to be available in summer 2017.
All core/casings and vibrator heads are interchangeable among all Minnich electric- and gas-powered motors, giving contractors equipment flexibility.
"Minnich is passionate about making construction workers' jobs easier and more efficient," said Rob Minnich, vice president of marketing at Minnich. "Our new and improved back pack vibrators will help operators stay comfortable and consolidate concrete longer."
For more information, visit www.minnich-mfg.com or call (800) 524-1033.