Pelican 9600 LED Modular Light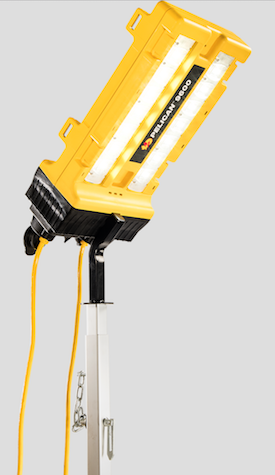 To offer linear lighting for higher visibility on long job sites, Pelican Products, Inc. introduces the Pelican 9600 LED Modular Light.
With an optimized, elliptical beam pattern, the 9600 LED Modular Light can cover work areas to a recommended health and safety executive output of more than 350 yards (321 meters) when deployed in a linked linear light series.
The 9600 LED Modular Light is engineered for up to 17 consecutive units to run on a single 110v generator outlet. It can illuminate long linear work sites to create a daylight effect which makes for an improved health and safety environment on any job site, road or railway.
"Getting the job done isn't always a 9 to 5 operation, so for this, we created the linkable Pelican 9600 LED Modular Light to provide dependable, brilliant lighting for long construction sites," said Scott Jones, Director of Sales, Lighting U.S. "The bottom line is that a properly lit job site is a safer job site and this daisy-chain lighting system provides that."
Versatile and built for any environment, side and end mount bracket attachment points allow the 9600 LED Modular Light to mount on fences, hang overhead, or extend up to 10 feet and stand on its own with the optional detachable pole and steel base.
In true Pelican fashion, these lights can survive rough terrain and accidental drops, as the Pelican 9600 LED Modular Light is designed with tough polycarbonate recessed lenses and internal shock supports. Drop tested 10-feet above concrete, the units are proven to handle harsh work environments.
To ensure the most efficient storage, organization and travel, the heads and bases of the 9600 LED Modular Light are designed to stack and stay together with tightly-packed detachable cords and poles.
Key features include:
Connect multiple light heads from one power source
3,000 lumens per light head
Extendable stand system – up to 10 feet
Stackable
Adjustable / tilting light management
Optimized elliptical LED optic to reduce 'dark spots'
Light bar shock absorbers for impact protection
14 LEDs per light head
Additional pole, base, cable accessories available
Availability:
Pelican's 9600 LED Modular Light is available to purchase starting at $249.95 MSRP U.S. through authorized dealers and is backed by an industry-leading Pelican guarantee of excellence.
For more information, visit www.pelican.com or www.behrmancap.com.