Malco Products Adds C-RHEX Driver Sizes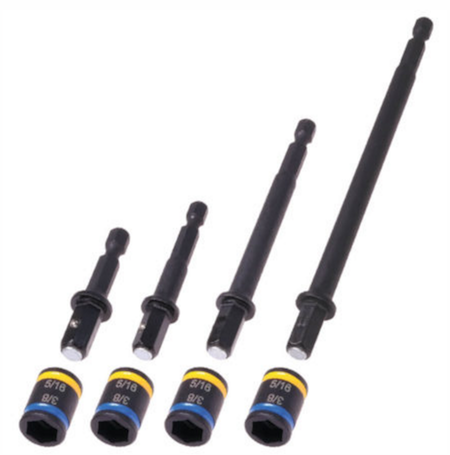 Malco Products, SBC has launched a new size of its best-selling C-RHEX driver.
Designed with trade professionals in mind, Malco's cleanable, reversible magnetic hex drivers do double-duty with "2-EZ Technology" that ensure 5/16-inch and 3/8-inch hex drives are always at-hand. Featuring single-piece strength and an indestructible magnet, it's the perfect companion for trade pros.
Available in four lengths (2-inch, 2 5/8-inch, 4-inch and 6-inch), C-RHEX drivers are quick to set up and change between sizes, while the driver shank remains installed in the drill chuck. Furthermore, cleaning is a breeze – it's easy to remove troublesome metal shavings with the swipe of a glove or shop towel.
"Our approach to product innovation is to start by identifying a problem that professionals face, and create a solution to solve it," said Mardon Quandt, Malco president and COO. "We heard from the trade pros who use our C-RHEX drivers on the job that they wanted a 3/8-inch option in addition to our existing ¼-inch size, so we made it happen."
This new size joins Malco's existing 1/4-inch and 5/16-inch driver. For more information about the full line of C-RHEX drivers, visit www.malcoproducts.com/product/c-rhex-cleanable-reversible-magnetic-hex-drivers-5-16-and-3-8/.