Mayhew 6 Piece Non-Turning Pneumatic Tool Set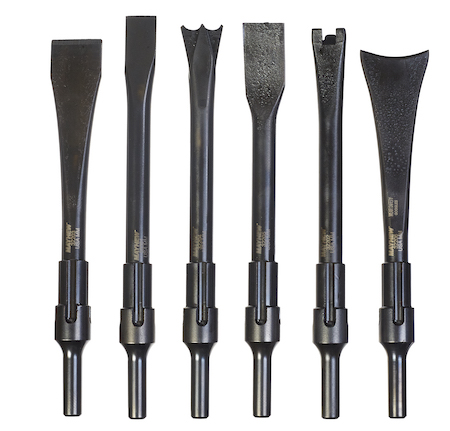 Mayhew Steel Products, Inc. introduces a new 6 Piece Non-Turning Pneumatic Tool Set, part number 32200, ideal for cutting bolts, breaking welds, scraping off under coating, and cutting heads off of bolts or rivets. Featuring a .401 Parker Shank, each of the tools also consist of four grooves that lock into the retaining balls of a quick release chuck to provide back and forth motion on the same plane while the c-axis remains locked.
Pneumatic tools in the set include cold chisel, slotted panel cutter, scraper, double cut body ripper, panel cutter, and pipe cutoff. The black oxide finish of the tools helps prevent rust and promotes long-lasting durability. Each of the tools are made in the USA and backed by a lifetime warranty.
For convenience and accessibility, the tools are packaged in a self-contained, reusable storage pouch.
Individual tool specifications:
32201 Pneumatic Cold Chisel 5/8" x 8"
32202 Pneumatic Slotted Panel Cutter x 8"
32203 Pneumatic Scraper 1 1/8" x 8"
32204 Pneumatic Double Cut Body Ripper x 8"
32205 Pneumatic Panel Cutter x 8"
32206 Pneumatic Pipe Cutoff x 8"
Mayhew Tools are sold through an extensive network of global distributors, primarily serving the industrial, automotive, and hardware markets.
For more information, contact Mayhew Tools at 800.872.0037 or visit mayhew.com.