Freud Black I.C.E. solid carbide router bits
Freud has introduced the first functional coated solid carbide router bits, Black I.C.E (Industrial Cooling Element).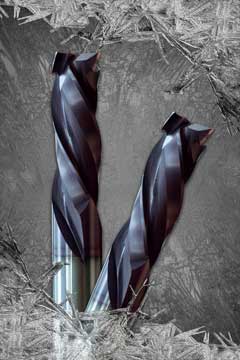 The bits deliver double the cutting life, flawless finishes and increased productivity, providing ultimate value without sacrificing production efficiency, Freud says. Combined with Freud's exclusive TiCo (Titanium Cobalt) Hi-Density Carbide and Black I.C.E coating, these new bits offer a sharper edge with precise cuts for less wear, resulting in two times increased life and performance compared to standard uncoated router bits.
Optimized for fast feed rates and high heat applications, the revolutionary Black I.C.E coating shields the solid carbide cutting edge by creating a slick, lubricant like action for friction, heat and pitch build-up.
The multi-axis grind reduces burning and provides two times the finish quality with an advanced open flute geometry that increases the overall working life by allowing two-times more re-sharpening's.
"We spent years in testing and development in order to introduce a premier solution in solid carbide router bits and protective coatings that delivers an incredible, unmatched 2X factor in life, finish quality, performance and productivity. Freud is the only cutting tool manufacturer to make its own TiCo Hi-Density Carbide; by capitalizing on this core competency along with our unrivaled vertical integration, we have introduced a series of Black I.C.E Solid Carbide Router Bits with the most innovative design and coating in the industry," said Russell Kohl, president and CEO of Freud America. "Black I.C.E Solid Carbide Router Bits will revolutionize the industrial market. The slick as ice design extends cutting life and quality while keeping the tool cooler. The innovation brought by Black I.C.E bits is truly a one plus one equals three combination in delivering unmatched performance."