MiTek ADTT-TZ Adjustable Deck Tension Tie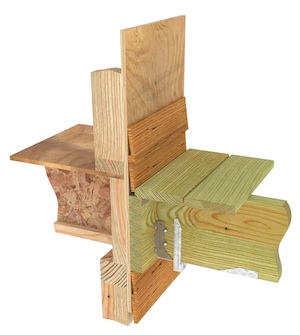 MiTek announces the release of its new Adjustable Deck Tension Tie (ADTT-TZ), which effectively resists the lateral (horizontal) loads that pull a deck away from the house or structure. The development of the new ADTT-TZ is part of an overall effort by MiTek to make decks safer.
The ADTT-TZ also brings users in compliance with the 2015 International Residential Code R507.2.3(2) which requires the installation of a "Hold-Down Device" with a minimum allowable tension load of 750 lbs., in four locations on the deck. The ADTT-TZ satisfies these requirements.
The ADTT-TZ's real innovation is its ability for adjustable installation. Using appropriate fasteners (such as USP WS8-HDG or 3/8-in lag screws), the ADTT-TZ can be installed with the screw either adjacent to or up to 4-3/8 inches below the deck joist, avoiding the need for blocking extensions.
Made of 14-gauge steel, with G-185 galvanizing, the ADTT-TZ offers a two-hole break-out washer that will work with multiple screw sizes.