Milwaukee 2786-22HD M18 FUEL 9 Inch Cut Off Saw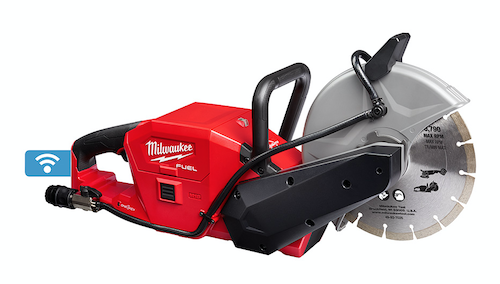 Milwaukee Tool has once again elevated user expectations of 18V cordless technology capability with the introduction of the M18 FUEL 9" Cut Off Saw w/ ONE-KEY.
An extremely versatile solution for cutting a large variety of materials, this tool harnesses M18 FUEL cordless technology to deliver the power to cut reinforced concrete without using gas like most traditional cut off saws. In addition, it's able to provide this performance while being up to 50% lighter than gas saws and with no gas headaches.
"This tool is groundbreaking for the industry because it showcases what we're able to accomplish through M18 FUEL cordless technology. The tremendous power of the M18 FUEL 9" Cut Off Saw w/ One-Key breaks down so many barriers on the job site, allowing users on the M18 System to cut masonry and concrete with a tool that's fully compatible with their M18 batteries. They'll experience much less fatigue because this tool is much lighter than many of the leading gas units. And they'll be able to perform their jobs without the worry of fumes, the need to mix gas and oil, and the associated gas engine maintenance," said Kevin Gee, Group Product Manager for Milwaukee Tool.
True to all M18 FUEL solutions, the new M18 FUEL 9" Cut Off Saw w/ One-Key combines three exclusive innovations – the POWERSTATE brushless motor, REDLITHIUM battery pack, and REDLINK PLUS intelligence – to deliver no gas headaches. Since it produces no fumes, it can be used indoors. In addition, the saw starts with a squeeze of the trigger instead of repeated pulling on a cord and eliminates the need to mix gas and oil or maintain a gas engine. Users will experience the power to cut reinforced concrete plus other metal and masonry materials including black pipe, cast iron, rebar, brick, and block. The saw comes with a diamond blade and an abrasive blade so users can get to work as soon as the tool is out of the box.
The saw is also equipped with an array of additional features to improve the user experience including: a Rapid Stop Brake that stops the blade in under 3 seconds, an Overload Indicator Light which illuminates when users push the saw too hard, and a fully-adjustable blade guard so users can easily position the saw for the cuts they need to make.
When cutting masonry and concrete, most users turn to a water supply with a hand pump. The M18 FUEL 9" Cut Off Saw can be easily paired with Milwaukee's M18 SWITCH TANK 4-Gallon Backpack Water Supply to be an OSHA Table 1 Compliant solution. This water supply delivers instant, constant, and adjustable pressure up to 60 PSI and operates off Milwaukee's M18 REDLITHIUM Batteries. In addition, the backpack design of this water supply allows users to change this traditional two-man job into a job that can be accomplished by one person.
As an added benefit, One-Key provides the ability to track and manage this tool.
Milwaukee is committed to improving productivity by providing performance-driven and trade-focused solutions so users can perform an entire day's work on one battery system. This new tool is part of the M18™ System, now offering more than 180 power tool solutions.
Specifications
M18 FUEL 9" Cut Off Saw w/ ONE-KEY Kit (2786-22HD)
Cut Depth: 3.4"
Blade Diameter: 9"
RPM: 6,600
Blade Arbor: 7/8"
Onboard Water Connection: Quick Connect
Load Indicator Light
Onboard Tool Storage: For scrench and hex key
RAPIDSTOP Blade Brake
ONE-KEY Enabled: Yes
Tool Length (w/ battery): 25.98"
Tool Weight (w/ battery): 14.86 lbs
Warranty: 5 Years