Milwaukee M18 Cordless Caulk and Adhesive Gun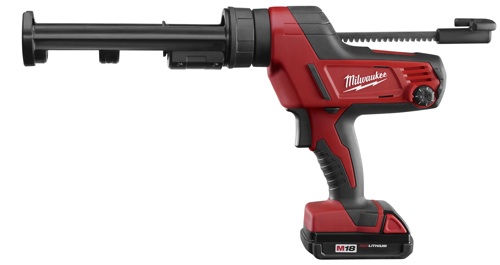 Milwaukee Electric Tool continues to expand the fastest growing 18V platform in the industry with the introduction of the new M18 Cordless Caulk and Adhesive Gun. Capable of delivering up to 950 lbs. of force for the highest viscosity materials, this powerful applicator supplies unmatched pushing force for the toughest applications, even in cold temperatures. The variable speed trigger and six-setting maximum speed dial optimize the tool's 0-21 IPM (inches per minute) flow rate for best-in-class control.
"The combination of incredible power and optimized speed settings will provide users with the ideal solution for dispensing a wide range of sealants and adhesives," says David Lincoln, Associate Product Manager for Milwaukee Tool Corporation. "The M18 Caulk Gun also gives users the ability to accomplish these projects with less fatigue as dispensing constantly with manual tools can be very cumbersome."
In addition, a Milwaukee exclusive Anti-Drip mechanism instantly stops excess material from oozing upon the release of the trigger, and a rotating collar design allows for maximize bead control around turns. Milwaukee built all metal gears provide unparalleled power, while Constant Flow Technology eliminates motor oscillation, resulting in steady material dispensing and even beads at all viscosity levels. With unsurpassed run-time, the new tool will dispense up to 200 tubes of 10oz construction on just one Compact RED LITHIUM battery charge.
The M18 Cordless Caulk and Adhesive Gun will be sold in kits with the options of 10oz, Sausage, and Quart style material containers. With an interchangeable Quick-Change carriage design, carriage accessories will be sold separately to allow the user to quickly change the tool to accommodate different material styles.
The M18 Cordless Platform continues to be the fastest growing LITHIUM-ION system with over 30 tools to date. Milwaukee is committed to the ongoing development of this platform and will continue to provide innovative solutions that offer industry leading reliability, performance and ergonomics.
Specifications:
2641-21CT M18 Cordless 10oz Caulk and Adhesive Gun Kit
• Up to 950 lbs of Force
• Variable Speed Trigger and Max Speed Dial
• 0-21 IPM Dispensing Rate
• For Use with 10oz Cartridge Material
Includes 2641-20 M18 10oz Caulk and Adhesive Gun, (1) M18 RED LITHIUM Compact Battery Pack, 30 Min Charger and Carrying Case
2641-20 M18 Cordless 10oz Caulk and Adhesive Gun Bare Tool
• Up to 950 lbs of Force
• Variable Speed Trigger and Max Speed Dial
• 0-21 IPM Dispensing Rate
• For Use with 10oz Cartridge Material
Includes 2641-20 M18 10oz Caulk and Adhesive Gun
2642-21CT M18 Cordless 20oz Sausage Style Caulk and Adhesive Gun Kit
• Up to 950 lbs of Force
• Variable Speed Trigger and Max Speed Dial
• 0-21 IPM Dispensing Rate
• For Use with 20oz Sausage Pack Material
Includes 2642-20 M18 20oz Sausage Style Caulk and Adhesive Gun, (1) M18 RED LITHIUM Compact Battery Pack, 30 Min Charger and Carrying Case
2643-21CT M18 Cordless 20oz Sausage Style Caulk and Adhesive Gun Kit
• Clear Barrel allows the user to see the material inside the barrel
• Up to 950 lbs of Force
• Variable Speed Trigger and Max Speed Dial
• 0-21 IPM Dispensing Rate
• For Use with 20oz Sausage Pack Material
Includes 2643-20 M18 20oz Sausage Style Caulk and Adhesive Gun, (1) M18 RED LITHIUM Compact Battery Pack, 30 Min Charger and Carrying Case
Available Accessories:
48-08-1076 10 oz Carriage Conversion Kit
48-08-1095 Quart Carriage Conversion Kit
48-08-1093 20 oz (600ml) Aluminum Sausage Barrel Conversion Kit
48-08-1094 20 oz (600ml) Clear Sausage Barrel Conversion Kit
48-08-1091 20 oz (600ml) Aluminum Sausage Barrel Kit
48-08-1096 20 oz (600ml) Clear Sausage Barrel Kit
31-12-0700 Black Nozzle