Drill Bits: Walter Surface Technologies Drill Bit Carrying Cases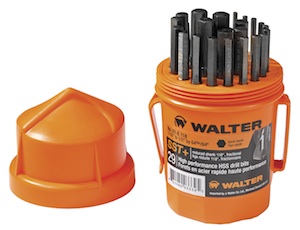 Walter Surface Technologies announces release of its new Walter Drill Bit Carrying Case. Made of shock resistant, extra-thick polyethylene plastic materials, the bright orange-colored carrying case is designed to help protect Walter drill bits products from water, rust, oil, grease and other contaminants.
Walter's all-purpose drill bits offer heavy-duty, fully ground body construction, special bronze SST heat and surface treatment, a state of the art self-centering split point, and high flow spiral design for the fastest removal rate.
Available for high-performance HSIS Walter drill bit products such as the SST 118 Quick Shank and the SST+ 135 Quick Shank, the Walter Drill Bit Carrying Case offers a closed, quick-release belt clip – giving end-users a practical way to realistically work with a 29 piece drill bit set.
The Walter Drill Bit Carrying Case is available now.