Drill Bits: Milwaukee Shockwave Thin Wall Hole Saws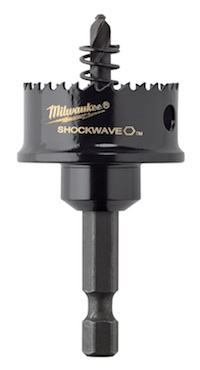 Milwaukee Tool says its new SHOCKWAVE Thin Wall Hole Saws provide up to 40% faster burr-free cuts than standard bi-metal hole saws and up to 2X longer life than competing products.
"Building on the success of the Milwaukee SHOCKWAVE Impact Duty line that has continued to expand since its launch in 2009, Thin Wall Hole Saws are a direct reflection of opportunities uncovered on the jobsite to give professionals more cutting solutions that can be used with their Impact Drivers," says Todd Taylor, Director of Marketing, Product Management for Milwaukee Tool.
"Electricians, Mechanical/HVAC workers, and Plumbers have been migrating to Impact Drivers as their primary tool of choice for the last several years because they help them work faster. As Impact Drivers continue to grow in popularity, Milwaukee will continue to deliver innovative accessory solutions that are rated to stand up to the extreme torque of these tools."
Featuring 1/4" quick change hex shanks, the Thin Wall Hole Saw line will include models from 3/4" up to 1-1/2" diameter, and are optimized for applications in thin gauge metal up to 1/8" thick. A stop shoulder design prevents over-drilling material and possible damage to inner components, while an ejection spring automatically ejects material to maximize productivity.
Common applications include hole-making in electrical panels, metal studs, junction boxes, sheet metal and mechanical ductwork.
Phone: 1-800-SAWDUST. www.milwaukeetool.com