Veto Pro Pac Tech OT-MC Open Top Tool Bag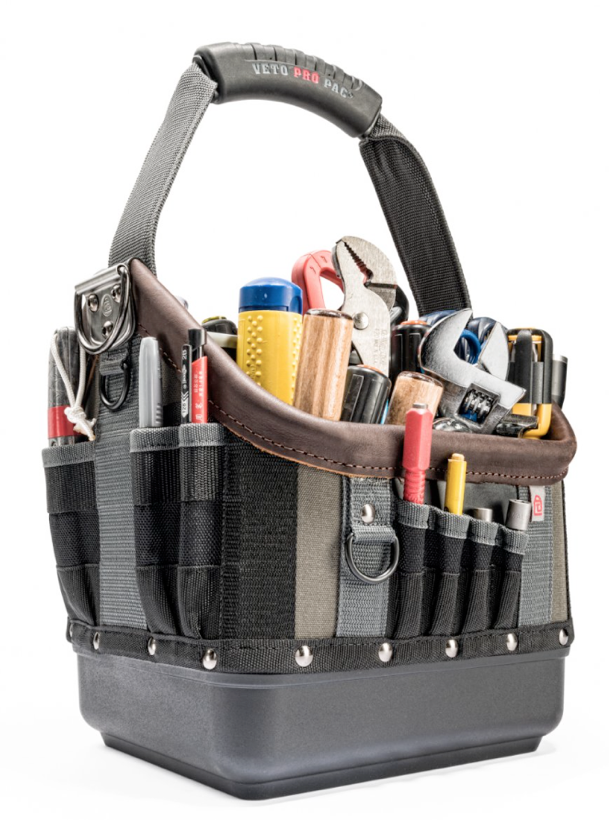 Veto Pro Pac (www.vetopropac.com), a leader in professional grade tool bags, launches its Tech OT-MC top tool bag. The Tech OT-MC is part of the very popular M Series that includes the MC and Tech MCT closed top tool bags.
A compact open top tool bag, the innovative Tech OT-MC includes a centrally located injection molded compartment that can be left open or fitted with removable and repositionable insert boxes that allow technicians the ability to customize their bags. Each insert box can be filled with different tools or accessory parts, and the central box can accommodate 1, 2, or 3 insert boxes; if a technician uses one box, the box can be placed in 6 different locations.
The TECH PAC OT-MC is the newest in a long line of workaholics that tradesmen have come to expect from Veto Pro Pac: redefining a product category, industry leading innovation, unparalleled durability, and design features that increase productivity on the job and save time, money and improve a tradesman's bottom line. Veto Pro Pac's heavy duty construction and stabilizing injection molded waterproof base keeps tools dry, even in the nastiest of conditions.
The TECH OT-MC features:
Interior Injection Molded Box with Smaller Removable and Repositionable Insert Boxes for Customization and Increased Storage Options
Over-molded Grip
Compact Stainless Steel Tape Clip Holder
Extra-Wide Padded Shoulder Strap
3 mm Thick Waterproof Base
28 Interior and Exterior Tool Pockets
With 28 interior and exterior tool pockets, the centrally located injection molded box and the opportunity to add three removable insert boxes, the TECH OT-MC has ample room for hand tools, meters, parts boxes, cordless drills and impact drivers. And, the ability to customize the bag with insert boxes allows technicians to easily set up the bag for each type of job that they are working on.