Lubes & Chemicals: Oil Eater Original Cleaner-Degreaser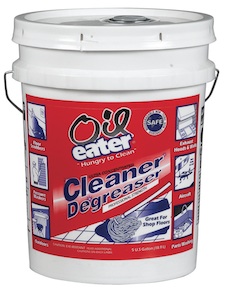 Oil Eater Original is a high-powered cleaner-degreaser uniquely formulated to eliminate the need for multiple cleaning solutions and highly effective in dissolving grease, oil and dirt from construction equipment.
Non-corrosive, non-toxic and non- flammable, this eco-friendly, low VOC cleaner makes clean up jobs simple and quick. It penetrates rapidly and rinses off easily with zero residue. It can also be used in parts cleaning and pressure washing machines.
The water-based cleaner contains no acids, abrasive or petroleum solvents and will not harm the skin.
The unique formula includes a mixture of non-ionic surfactants, emulsifiers, water softeners and other biodegradable ingredients.
Oil Eater is available in 1-, 5-, 30-, and 55-gallon containers and a 275-gallon tote. A sample is
available upon request.
For further information, visit www.oileater.com or call 800-528-0334.