Other Products: Otterbox iphone 5 Cases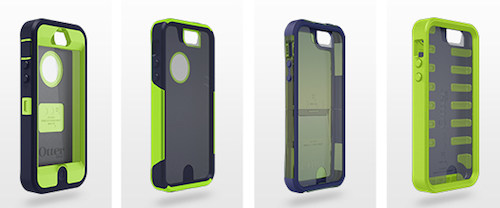 Available today, OtterBox has a complete collection of iPhone 5 cases. The company offers several case options (shown left to right):
Defender Series: Rugged protection, made for adventure. This case consists of a built-in screen protector, strong polycarbonate shell and shock absorbing silicone outer layer. Silicone plugs keep dust and dirt out of all ports when not in use. A holster-style swivel belt clip that doubles as a media viewing stand is included.
Commuter Series: Stylish protection, made for action. Sturdy, two layer protection consists of a silicone mid-layer and thin, durable polycarbonate shell. Silicone plugs keep dirt and dust out while the self-adhering screen film keeps the Retina display free of scratches.
Reflex Series: Agile protection, made for versatility. The two-piece slider design enables quick assembly and removal and is great for docking with third-party accessories. Reflex zones in the case corners absorb shock to prevent damage to the device during impact. This case features a self-adhering screen film.
Prefix Series: Effortless protection, made for simplicity. The Prefix Series consists of a dual-material, unibody construction that delivers a soft-touch feel with the inner strength necessary to keep the iPhone 5 safe from damage. An impact-resistant silicone exterior dissipates shock, while the inner polycarbonate backbone provides structural strength. Silicone pads inside the case cushion the device and an adhesive screen protector defends from potential damage.
For more information on OtterBox cases for iPhone 5, visit www.otterbox.com.