Other Products: ZipRail Dual Seal Accessory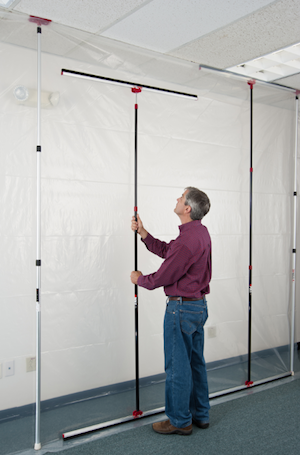 ZipWall's new ZipRail Dual Seal accessory creates a dust-tight seal along the floor and ceiling without tape.
Based on ZipWall's patented spring-loaded telescopic pole and Foam Rail crossbar, it resembles an I-beam when assembled.
Setup requires only a few seconds. The ZipRail Dual Seal is placed on the plastic at the floor and then raised and twist-locked into position. The pole's internal spring loading pushes the crossbars against the plastic at the floor and the ceiling at the same time. The ZipRail accessory is used with the ZipWall barrier system for the highest level of dust containment.
Each ZipRail Dual Seal includes a 10-foot telescopic spring loaded pole and two 4-foot Foam Rail crossbars. The product is available in single and triple packs. Available through ZipWall dealers nationwide, the suggested contractor pricing is $85.95 for the single pack and $149.95 for the triple pack.
The ZipRail dual seal is ideal for these applications:
Demolition
Hospital construction
Drywall work
Concrete restoration
Abatement jobs
Mold remediation
Flood and fire restoration and more
The ZipRail Dual Seal is important for hospital construction, where infection control is a major concern. It's perfect for demolition, drywall work and concrete restoration where fine dust can creep over and under the plastic sheeting. It can be used in abatement as well as mold remediation. It can be used to help meet the lead safe requirements of the EPA's RRP rule. And it is also ideal for flood and fire restoration where quick containment setup maximizes profitability. Importantly, the product can be used with negative air.
In a typical installation, the dust barrier is built first using ZipWall spring loaded poles placed every 8' to 10'. Then the contractor adds the ZipRail dual seals to seal the ceiling and the floor. For best results, the crossbars are overlapped slightly to create a continuous seal at the floor and the ceiling.