Other Products: SnapNSave Paint Can Transfer System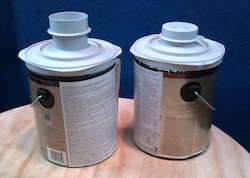 Saves paint and eliminates mess with a uniquely designed lid and spout.
Created to greatly improve the way paint is poured and saved, General Development Laboratories of Morro Bay, California has recently released SnapNSave, a solution for all of the problems with traditional paint cans.
It is made from durable plastic in a patented design which fits snugly on one-gallon cans and soon, quart cans. It has never been easy to pour from a full paint can. With SnapNSave, now it is. A centered spout makes pouring easy and controlled. The can rim is completely protected and paint never drips down the side of the can. The pour spout is closed with a cap that doubles as a touch-up container. Paint will not spill even if the can tips over.
The pour lid snaps on and off easily with absolutely no tools required. The lid stays on the can for the duration of the project; you never need the metal lid again. The top of the can is completely protected against rust even if left out in the weather.
The SnapNSave kit comes with an adapter which allows a can to marry with another can to efficiently pour the remaining paint without any loss, eliminating the need to scrape out the almost-empty can.
A flat lid, with no spout, is also available for long-term storage. It has a ring to allow convenient stacking.
The SnapNSave paint can transfer system saves money, time and mess and protects the environment. Plus, paint won't stick to the lid. It's actually dishwasher safe.
The SnapNSave system is not just for paint. It's perfect for any viscous messy fluid from roofing cements to flooring glues, from resins to virtually anything that comes in paint-type cans.
"I created this system to get the maximum value out of my paint and save loads of time and effort," said Peter Sanford,Founder of General Development Laboratories. "Pouring paint is now a joy. Then for transfer from can to can, it's amazingly simple to use. No more waiting for the paint to drain. Just tip them together and walk away. If you want to get the most out of your paint, there really is no alternative. Cleanup time is cut to just a few minutes. I believe system will become an industry standard."
By mid-winter, 2013, quart pour lids will also be available, designed to use the same caps and adapters as the gallon lids.
SnapNSave basic kit has two gallon pour lids, two caps, and an adapter and carries a MSRP of $21.95. Contact Peter Sanford by email at peter@gdl-online.com, or call 805-772-5588 for more information.