Premier Building Solutions XtraBond 9714 Liquid Applied Flashing & Sealant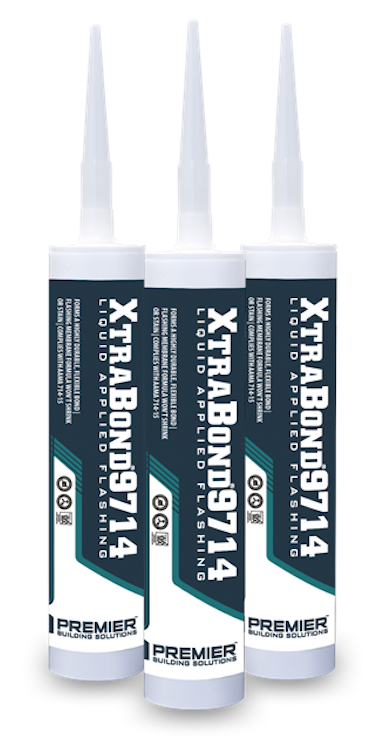 Premier Building Solutions, a leading provider of sealants, adhesives, foams and flashing products, has announced XtraBond®9714 Liquid Applied Flashing & Sealant as the latest addition to it's product line.
XtraBond®9714 is a liquid applied flashing membrane that can be used to create a continuous, smooth barrier to protect a building envelope against the elements. The seamless air and water barrier provide instant protection.
For installers, working with traditional flashing tape around complex window and door openings can be an overly complex task with endless cutting, folding and reconfiguring. These applications are where XtraBond®9714 is ideal. The product flows easily, taking the shape of the substrate, regardless of the complexity.
XtraBond®9714 can be found listed in the Fenestration and Glazing Industry Alliance's (FGIA) latest document, AAMA 714-22 Specification for Liquid Applied Flashing Used to Create a Water-Resistive Seal Around Exterior Wall Openings in Buildings. This new publication establishes minimum performance requirements for liquid applied flashing used to provide water-resistive seals around exterior wall openings in buildings.
The AAMA 714 document sets minimum performance and durability requirements for these materials. Both the IRC and IBC codes require the use of these materials in flashing applications. XtraBond®9714 is one of a small few to meets these requirements.
"Meeting AAMA 714 specifications was crucial to the development of this product," said Chris Dooley, Premier's VP of Sales & Marketing. "This identifies XtraBond®9714 as a leader in the liquid applied flashing sector."
XtraBond®9714 is available now. For full product details, visit: https://premierbuildingsolutions.net/product/xtrabond9714-liquid-applied-flashing/