Cat 60V 15 Inch Brushless Line Trimmer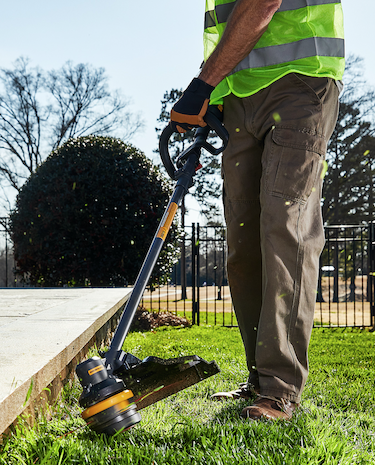 The new Cat® 60V, 15 in. Brushless Line Trimmer delivers gas-like performance without hard starts, routine maintenance, and fumes. Recognized worldwide, the Cat brand is noted for its engineering, innovation and rugged dependability of its building and construction equipment. Now, with the emergence of Cat 60V outdoor power equipment, the same focus on quality, durability and performance continues.
This 60V straight shaft, line trimmer features quality that's synonymous with the Cat brand. With its dual feed 0.95 in. professional twisted line makes quick work of trimming and edging tasks. Homeowners and professional landscapers alike will appreciate its features and performance.
The 60V 15 in. line trimmer has a dependable highly-efficient brushless motor. The high-performance brushless motor provides up to 40 percent more power and 10 percent longer run time than standard motors. The brushless motor runs cooler with less friction and heat buildup than conventional motors, resulting in smooth, reliable operation and extended tool life.
Most line erosion occurs during edging when making contact with hard surfaces, such as concrete or asphalt, which shreds and depletes line. Other line depletion areas include fence lines and yard obstructions. With its dual-exit professional line, the Cat trimmer employs a quick-load line replacement system that speeds line replacement. Advancing line is fast and easy using bump feed.
The Cat 60V, 15 in. Line Trimmer has variable speed control, which allows users to maximize run time by varying the trimmer's speed to match the task. The trimmer also features a push-button ECO mode to conserves battery consumption when trimming sensitive area such as flower beds, vegetable gardens and trees. Fully charged, the 60V 2.5Ah battey (included) provides up to 35 minutes of run time.
The Cat 60V MAX lithium-ion battery features advance technology that enhances the trimmer's performance and extends run-times. Fully enclosed cell protection provides increased security against vibration, impact, moisture and thermal runaway. The Cat 60V, 15 in. Line Trimmer comes with a 3-amp, 50-minute charger. The Cat 60V battery is compatible with all Cat 60V outdoor power equipment for cost savings and convenience.
The trimmer has a 15 in. cutting swath, a protective debris guard to ensure the end user is protected from dirt and debris while providing maximum cutting length. With the 60V battery pack, the trimmer is nicely balanced at 9.9 lbs. and highly maneuverable. Its D-shaped adjustable front-assist handle has a smooth overmold grip for comfort and maximum control.
The Cat 60V 15 in. Brushless Line Trimmer (DG610) includes one 60V 2.5Ah MAX lithium-ion battery, a 3-amp 50-minute charger, one Quick-Load spool head and grass shield. It's available at Tractorsupply.com, Lowes.com, Mowersdirect.com, Powerequipmentdirect.com and Amazon. The trimmer is covered by the Cat five-year limited warranty.
For more information about Cat outdoor power equipment and Cat power tools visit catpowertools.com