ProMAXX Tool Repair Kit for Ford 1.6L EcoBoost
The brand new repair kit from ProMAXX offers an innovative solution for the repair and extraction of broken bolts in the aluminum cylinder head.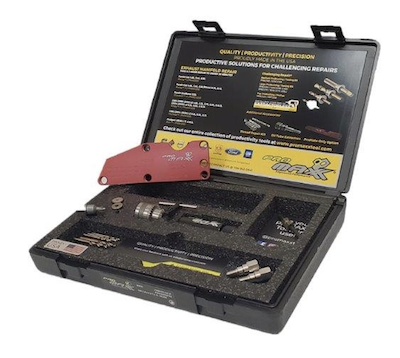 ProMAXX Tool has introduced their newest innovation in precision tooling, the Nicole ProKit (PMXNIC200PRO) which guides automotive technicians through the challenging process of extracting broken bolts from the cylinder head of the 1.6L Ford EcoBoost®. This is ProMAXX's second exhaust manifold repair kit for Ford's increasingly popular EcoBoost® line of turbo-charged engines.
"The 1.6L EcoBoost ProKit is a great expansion on our offering of Ford exhaust manifold repair kits," said Jeff Del Rossa, founder and president of ProMAXX Tool. "In the past two years we have seen growing demand for in repairs for the 3.5L EcoBoost using the Elizabeth™ ProKit (PMXEII200PRO) and suspect that the high heat from the turbocharged engine will create the same repairs for the 1.6L" Del Rossa said.
The introduction of the EcoBoost® Engine in 2009 proposed an alternative option to other fuel-efficient engines on the market and became an addition to various makes of the Ford lineup of vehicles. Today, EcoBoost® engines can be found in everything from the Ford Focus to the F-150. In 2018, ProMAXX Tool introduced the 3.5L EcoBoost® exhaust manifold repair kit after hearing from multiple customers that the bolts broken off in the cylinder head were extremely hard to extract.
"In our experience with repairing turbo charged, aluminum cylinder heads, we know that this can be a difficult repair," said Del Rossa. "The Nicole ProKit gives technicians a productive solution for the challenging repairs they face."
Featuring the same quality, precision and efficiency as the entire ProMAXX family of tools, the Nicole™ ProKit brings American made craftsmanship and materials to technicians that demand quality in their tooling.
For more information, expert advice or to place an order visit www.promaxxtool.com or call (724) 941-0941.