Pipe Tools: RIDGID RP 200-B Press Tool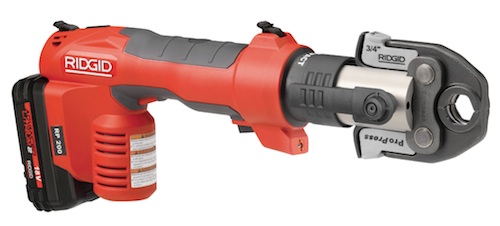 RIDGID introduces the new RP 200-B Press Tool. The inline-designed RP 200-B, complemented with a 270-degree rotating barrel, offers contractors a fast and reliable way to join copper and stainless steel tubing (1/2" to 1-1/4" in diameter) and PEX tubing (3/8" to 1-1/2" in diameter) in hard-to-reach spaces. With the new addition, RIDGID now offers a choice between pistol-style or inline press tool designs, offering solutions to fit a variety of needs.
A lightweight (6.2 pounds), cordless tool, the RP 200-B produces a hydraulic ram output of 5,400 pounds and can make connections in as few as 4-5 seconds. It also comes standard with two RIDGID Advanced Lithium Batteries that can produce more than 200 presses per charge for jobsite efficiency. Larger capacity batteries are also available and can achieve more than 400 presses per charge to maximize uptime.
Adding to the tool's versatility, it can operate in temperatures ranging from 15° F to 122° F and is compatible with all RIDGID Compact Series Press Tool attachments, including Compact Series ProPress Jaws for Copper Tubing, Compact Jaws for Pureflow and the C1 ProPress Ring Kit.
The RP 200-B also comes with a convenient carrying case and is backed by the RIDGID Full Lifetime Warranty against material defects and workmanship.
For additional information about the RIDGID RP 200-B Press Tool and other RIDGID Pressing Technology, please call toll free: 1-800-769-7743 or visit www.RIDGID.com/pressing