Pipe Tools: Viega ProPress for 304 Stainless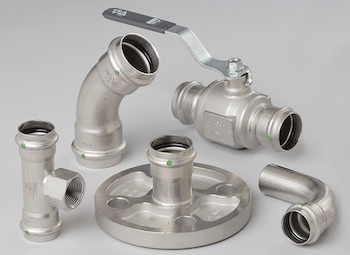 The Viega ProPress system for installing 304 stainless steel pipe in sizes 1/2" to 2" received UL certification of compliance for fire protection applications.
Viega ProPress stainless steel fittings, with the FKM sealing element, are the only UL-approved stainless press fitting for fire protection systems.
As with all Viega press systems, Viega ProPress stainless steel fittings can be prefabricated, producing a straight, clean installation that can be properly pitched back to the supply source. The patented Smart Connect feature on all Viega ProPress systems guarantees easy identification of unpressed connections.
"The fire protection certification of the Viega ProPress systems for 304 stainless steel will benefit contractors by providing them with a faster, more efficient and innovative method of installing stainless steel pipe for fire protection applications," said Derek Bower, product manager at Viega.
Viega ProPress for stainless uses unique press technology to secure pipe connections in less than seven seconds. The system, consisting of stainless steel pipe, valves and fittings, provides a faster, more reliable, flameless way to make water-tight and gas-tight stainless steel connections.
Available in two high-quality stainless steel grades, 304 and 316, and with more than 600 fitting configurations, the Viega ProPress system for stainless steel is ideal for industrial and commercial installations.
The Viega ProPress system can be installed wet or dry and can be adapted to existing piping system with adapters or flanges.