Pipe Tools: RIDGID B-500 Transportable Pipe Beveller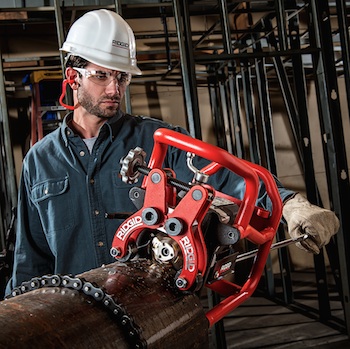 New from RIDGID, the B-500 Transportable Pipe Beveller produces a consistent, high-quality bevel in less than two minutes without flames or sparks, replacing traditional beveling methods such as grinding.
The B-500 is a compact and transportable unit that easily mounts to the end of pipes four inches or greater in diameter, with a maximum wall thickness of a half-inch, as well as on flat plates up to a half-inch thick.
Interchangeable heads allow bevels to be cut accurately at 30 degrees, 37.5 degrees or 45 degrees.
The unit features speed monitoring with LED indicators that assist the operator in keeping the beveller moving at an optimal pace. This ensures a consistent, machined finished bevel in a single pass.
The compact design allows for a single operator to quickly set up and create bevels in a wide range of applications. The simple operation allows a user of any skill level to operate and produce high quality results.
"The B-500 has distinct advantages over other beveling methods," said Larry Feskanich, Global Marketing Manager at RIDGID. "Speed and accuracy are really what sets it apart. Customers are impressed with the quality it produces in just one quick pass."
For additional information about the new RIDGID B-500 Transportable Pipe Beveller, please visit www.RIDGID.com, or call toll free: 1-800-769-7743.