Stationary Tools: Rockler T-Track Tabletop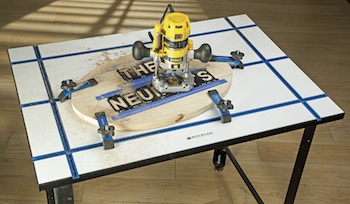 Rockler Woodworking and Hardware has introduced the T-Track Tabletop, a melamine-coated work surface featuring a grid of five, built-in T-Tracks that fit a variety of different clamping and jig components.
The intersecting grid of T-tracks makes it quick and easy to set up and secure jigs and clamps. The T-Track Tabletop simplifies the process of securing workpieces of different sizes and shapes, allowing the user to quickly and easily perform multiple functions and tasks.
"The T-Track Tabletop adds new dimensions to tabletop applications, whether it be finishing, sawing, routing, or anything requiring a stable setup," says Scott Ekman, Vice President of the Marketing Department. "The Universal T-tracks embedded in the table fit a variety of accessories such as clamps and risers to allow secure setups virtually anywhere on the table surface. The applications are endless – we are constantly finding new ways to use this table."
The T-Track Tabletop is made of melamine-coated MDF with 3mm black edge banding and five extruded aluminum universal T-tracks built into the tabletop – three running horizontally and two running vertically, creating six T-track intersections. The universal T-tracks accept 1/4" and 5/16" T-bolts as well as 1/4" hex bolts. The tabletop measures 40" long x 28" wide x 1-1/8" thick and features a 36" x 24" steel base and included mounting hardware to secure the top to the Rockler Shop Stand (48089, sold separately).
The T-Track Tabletop (46654) retails for $229.99 and the Rockler Shop Stand retails for $159.99. For more details, call 1-877-ROCKLER or visit www.rockler.com.