Stationary Tools: Kalamazoo Metal Muncher Series GB Press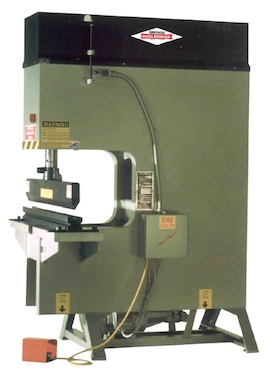 Kalamazoo Metal Muncher Series GB gap bed hydraulic press is a solid, dependable and extremely versatile machine designed for low volume production work and job shop applications. The press accepts a wide range of standard and optional accessories for forming, punching, shearing and notching, and be fitted with special tooling to allow shearing or forming for special jobs.
The Series GB gap bed press is available in 40-ton through 135-ton standard models. The 40-ton machine has a 7" x 9" throat and the 70-ton, 100-ton, and 135-ton machines come standard with a 9" x 14" or an 18" x 18" throat.
Optional accessories include a heavy duty gauging table, press production table, adjustable work support roller, structural die block, standard 4-way brake set and a special brake die holder.
Other accessories include a pipe notcher, pipe shear, channel shear, mitering angle shear, rod shear, spear point (picket) tooling and over-sized 28xx, plus special punches and dies.
For complete information on the Kalamazoo Metal Muncher Series GB press as well as other equipment, accessories and complete specifications go to: www.kalamazoometalmuncher.com