Anchors: SENCO Adds Mantis Hidden Deck Fasteners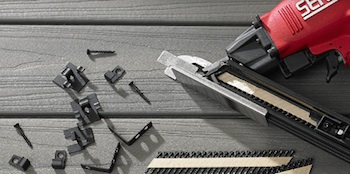 Hidden fastening offers a clean, attractive decking surface for the homeowner and a consistent installation process for the contractor.
Now, SENCO is proud to offer the MantisTM Deck Clip System, a hidden fastening system that includes starter and finish clips and the industry-leading Mantis Clip for all connections in between.

Time is money and call-backs for system failures take time. When installing with Mantis, professional contractors can build with confidence because independent laboratory testing found the Mantis Deck Clip can deliver approximately 43% greater lateral movement resistance. This keeps the connection of the fastener to the deck board stronger and longer-lasting.
Mantis Deck Clips have a base that fits under the deck board to slightly elevate the plank off the joist, which provides proper airflow. This allows the joist system to dry faster without trapping water under the deck boards, reducing the potential for mold and mildew from forming and makes the deck last longer.
Mantis Deck Clips come in three custom varieties that work with most decking on the market to ensure optimum fit and holding power. The Mantis 396 is designed for boards with a .416" profile (MoistureShield, ChoiceDek, Gossen, Royal, Latitudes, Deceunick, etc.); Mantis 385 is ideal for Fiberon, TimberTech, Wolf Deck, NyloDeck; and the Mantis TRX Line is made exclusively for TREX decking.
Mantis Deck clips are available in two convenient pack sizes. Boxes cover 50 square feet and includes start and finish clips. Buckets cover 250 square feet of decking. Buckets do not include start and finish clips. Start and finish clips are available in packs of 25.
Visit www.senco.com/hidden-deck-clip-system for additional information.
Click here to watch a video on the Mantis Hidden Deck System.