Anchors: Simpson Strong-Tie Titen HD screw anchor in 1/4-inch diameter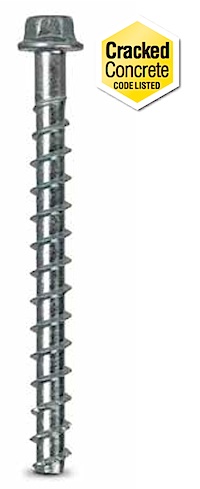 Simpson Strong-Tie, the industry leader in engineered structural connectors and building solutions, now offers its patented, high-strength Titen HD screw anchor for concrete and masonry in 1/4" diameter.
This new size offers optimum performance in both cracked and uncracked concrete, as required by the 2012 IBC for post-installed anchors. The newly redesigned anchor has all the features of the original Titen HD – plus optimized thread geometry and the 1/4" diameter.
The self-undercutting, non-expansion characteristics of the Titen HD anchor make it ideal for structural applications, even at reduced edge distances and spacings. It is recommended for permanent applications in dry, interior, non-corrosive environments or temporary outdoor applications.
Other key features include:
Qualified for static and seismic loading conditions in cracked and uncracked concrete
Suitable for horizontal, vertical and overhead applications
Installs with low torque for maximum efficiency
Code-listed under the current IBC/IRC in accordance with AC193 for cracked concrete applications per ICC-ES ESR-2713 and with AC106 for masonry applications per ICC-ES ESR-1056
Classified as a Category 1 anchor, the highest attainable anchor category for performance in cracked concrete under static and seismic loading.
Click here to download a PDF spec sheet.