Simpson Slide-Clip Connector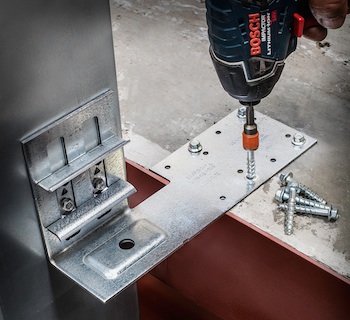 Simpson Strong-Tie, the industry leader in engineered structural connectors and building solutions, now offers a slide-clip connector that provides an easier way to attach bypass framing anchors to concrete and steel.
The Simpson Strong-Tie SCHA slide-clip connector is an ideal solution for panelized or stick-frame construction where cold-formed steel bypass framing anchors to the top of a floor slab or the bottom flange of a steel beam.
The SCHA slide-clip connector comes with pre-punched holes for 1/4-inch-diameter Titen HD concrete screw anchors or 0.157" PDPAT pins, eliminating the need for pre-drilling and helping to ensure accurate anchor placement every time. The connector was developed and tested to accommodate different methods of anchoring concrete and steel.
Other key features of the SCHA slide-clip connector include:
Flexible design allows either face of anchorage leg to be used against support
Connector provides a full 1" of upward and downward movement
Can be used with 3⅝", 4", 6" and 8" studs
Tabulated design values for anchorage help mitigate risk and provide ease of specification
For more information about the SCHA slide-clip connector, visit www.strongtie.com/scha.