Simpson Hollow Drop-In Anchors and Wood Rod Hangers
Simpson Strong-Tie has expanded its anchoring systems for residential, commercial and industrial uses to include a new Hollow Drop-In Anchor and a Wood Rod Hanger.
The Simpson Strong-Tie anchoring systems products include adhesives and mechanical anchors as well as direct fastening solutions for attachment to concrete, steel, CMU or metal deck. The new product additions help provide a wider array of project solutions, and include: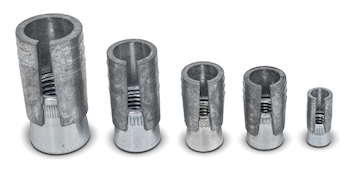 The Hollow Drop-In Anchor (HDIA) is an internally threaded, flush-mount anchor for use in hollow materials such as CMU and hollow-core plank, as well as in solid base materials such as brick, normal-weight and lightweight concrete.
Designed for anchoring in thin-walled material, the HDIA is suitable for suspending conduit, cable trays, pipe supports, fire sprinklers and suspended lighting into concrete, as well as handrails into CMU. The HDIA can be installed with setting tools designed to aid anchor embedment in both solid and thin-walled materials, and the internally threaded design allows for easy bolt removal.

The Wood Rod Hanger is a one-piece fastening system for suspending 1/4" or 3/8" threaded rod. Vertical rod hangers are designed to suspend threaded rod in overhead applications from wood members. Horizontal rod hangers are available for applications requiring installation into the side of joists, columns and overhead members.
Both rod hangers feature a Type 17 tip for fast installation starts with no pre-drilling, and also provide attachment points for use in pipe hanging, fire protection, electrical conduit and cable-tray applications. A custom-matched nut driver is also available as an accessory, which sets the rod hangers to optimal depth every time.
For more information, visit strongtie.com/anchors.