STANLEY Control-Lock Tape Measures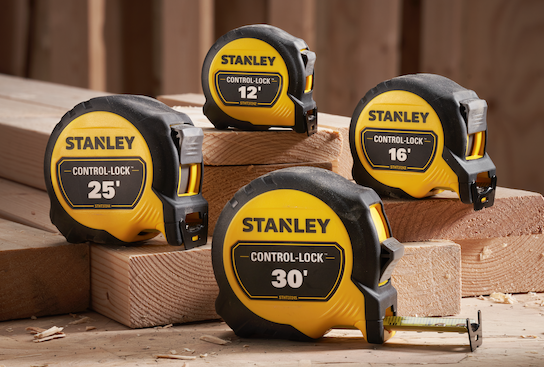 STANLEY®, a Stanley Black & Decker brand, launches CONTROL-LOCK™ tape measures designed for strength, reach and measuring control. STANLEY CONTROL-LOCK™ tapes range from 12 to 30 feet and feature a rugged, yet lightweight compact design equipped with an integrated finger brake,* providing users with maximum control and protection when extending and retracting the blade.
"As the leading tapes manufacturer, we know that professionals demand tapes they can trust. That is why we are consistently innovating STANLEY tapes to enhance the user experience," said Peter Gabriele, Group Product Manager of Tapes at Stanley Black & Decker. "STANLEY CONTROL-LOCK™ tapes are engineered to strike the perfect balance between size, performance and comfort - empowering tradespeople to tackle any job with confidence and ease."
STANLEY CONTROL-LOCK™ tapes are ideal for use on professional jobsites and include the following features:
A lightweight, compact and ergonomic design for maximum comfort and usability
An integrated finger brake that provides improved control of the blade when measuring and retracting*
Pro-grade performance 1-In. blade width and 12-Ft. max reach**
Protective rubber over-molded casing
BladeArmor® coating treated to the first 3-In. for durability and abrasion resistance
The STANLEY CONTROL-LOCK™ line-up comprises of 12-Ft., 16-Ft., 25-Ft., 8M/26-Ft and 30-Ft., tapes sold in recyclable packaging, marking an important step forward in minimizing single use plastic from this packaging style.