Professional Measurement: STANLEY STHT77032 Point and Click Laser Distance Measurer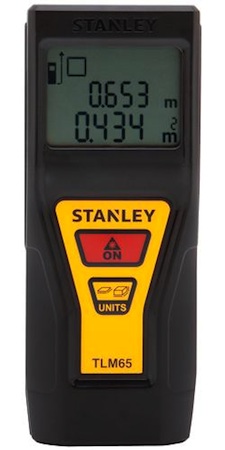 Simple, accurate and powerful, Stanley introduces the new lightweight and compact TLM65 Laser Distance Measurer-model STHT77032.
Featuring a variety of functions in an easy-to-use design, the TLM65 Laser Distance Measurer is small enough to fit in a pocket and provides a great resource for multiple trades such as real estate agents, contractors, landscapers, painters, and for do-it-yourselfers.
With its automatic calculations, the Laser Distance Measurer makes job estimates quick and easy, instantly calculating square footage and more of a room or space.
With a range of 65 feet, the TLM65 Laser Distance Measurer is accurate to within 1/8 inch. A simple two-button design makes measuring distance, calculating square-feet, and even cubic-feet quick and easy. With continuous measurement, finding your target distance is easy, fast, and efficient.
The handheld, battery-powered device feature state-of-the-art electronics and easy to read LCD screens that make the process of taking long measurements or performing complex calculations fast and easy.
The TLM65 Laser Distance Measurer automatically calculates distance, area, and volume with continuous measurement tracking functionality that helps find the target quickly and easily. One person can measure 65 feet without assistance. The laser measurers' addition and subtraction features offer a convenient calculations in English or metric, fractional or decimal modes.
The TLM65 Laser Distance Measurer will be available in May 2014 for approximately $59.99.