Professional Measurement: Trimble Spectra Precision LT56 Universal Laser Layout Tool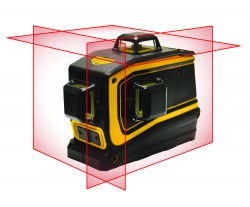 Trimble introduces the new Spectra Precision LT56 Universal Laser Layout Tool. The LT56 is an easy-to-use, automatic self-leveling laser that projects three 360 degree planes of ultra-bright laser light. One horizontal plane is intersected by two vertical planes spaced 90 degrees apart. These laser planes provide reference for interior layout tasks including wall layout and installation, acoustic ceiling installation, point transfer, cabinet and chair rail installation, tile layout and horizontal and vertical alignment.
The announcement was made today at World of Concrete 2014, the industry's annual international event dedicated to the commercial concrete and masonry construction industries.
The LT56 is powered by rechargeable lithium–ion batteries that typically can provide a battery life of 25 hours to 45 hours, depending on the number of laser planes used.
The universal accessory allows mounting to ceiling grid, various sized tripods, columns and studs. The mount has fine vertical height and horizontal rotation adjustments for quick and easy setups.
The HR220 laser receiver can be added to give the LT56 the added versatility of outdoor use.
A tough housing with generous overmold is designed to withstand the rigors of the professional construction environment. This rugged tool is specified to withstand a 3 foot (1 m) drop test.
The LT56 Universal Laser Layout Tool is available through the Spectra Precision Dealer Network.
For more information, visit: www.trimble.com.