Professional Measurement: Leica DISTO E7500i Laser Distance Meter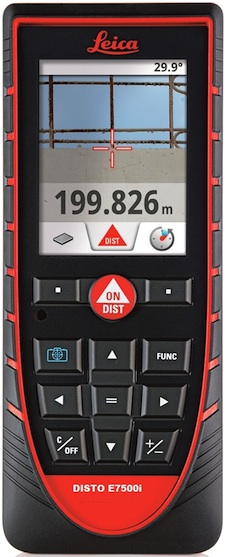 The Leica DISTO E7500i laser distance meter is the ideal solution for anyone who needs easy, precise measurements outdoors.
An advanced digital Pointfinder and 4x zoom enables the Leica DISTO E7500i to take measurements with 1 mm accuracy up to a 650-foot range in all light conditions. This capability is a distinct advantage when working outside in sunny weather; even if the red laser point is no longer visible, the target can easily be seen on the instrument's full-color display.
The housing and keypad are sealed against water and dust, and certification to the rigorous IP65 rating provides peace of mind when working in adverse weather conditions. The instrument can even be cleaned under running water.
A 360° tilt sensor allows the user to measure angles as well as horizontal distances.
Combined with the Pointfinder, the Leica DISTO E7500i allows indirect measurement where no reflective target point is available for unlimited measuring options.
For users seeking improved workflows, measurement data can be easily transferred to the latest Apple iPhone and iPad devices using the Bluetooth Smart 4.0 technology.
The free Leica DISTO sketch app allows the user to create ground plans or tables or add dimensions to photographs.
Other features include inclination tracking, minimum/maximum measurement, area/volume measurement, an integrated calculator, height tracking, the ability to measure in imperial or metric units, and an onboard help function.
The Leica DISTO E7500i is the world's first laser distance meter certified to ISO Standard 16331-1 for proven precision and performance.
For more information, visit http://disto.leica-geosystems.us.