Professional Measurement: M-Power Point 2 Point MKII Layout Tool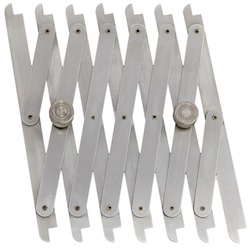 The New Point 2 Point MKII layout tool takes the hassle out of marking out jobs that need equal spacing. No need for a calculator, tape measure and note pad. Finding the perfect sequence and spacing's for a row of coat hooks, screws, nails, dowels, shirt buttons or pleats is as easy as an equally divided piece of cake.

The MKII boasts a new maximum extension of 2 1/2 feet, a full 25% bigger than its predecessor.
Rather than having four pinch-bolts to tighten the MKI mechanism, the Mk2 has just two. They're much larger, more ergonomic and quicker to use.

The components that make up MKII's mechanism are 50% thicker than before, making it considerably more robust and hard wearing.

The pivot points on the Mk1 were bush less (metal on metal). MKII's assembly has 0.5mm nylon bushes fitted to 17 pivot points, making the scissor action seamless. MKII is so much smoother.

MKII is genuinely an entirely new generation of Point 2 Point. MKII's new form has in part been shaped by suggestions, ideas and feedback from friends and fans around the world.

http://www.m-powertools.com/point2point-mk2-layout-divider.htm