Adhesives & Sealants: Sherwin-Williams Polysiloxane 1K Finish Coat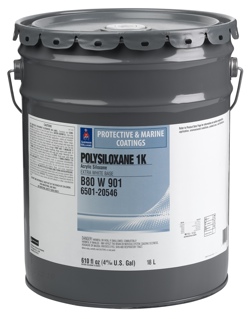 Sherwin-Williams introduces Polysiloxane 1K, a single-component polysiloxane finish coat that provides superior weathering and chemical resistance compared to typical polyurethanes.
"Polysiloxane 1K offers excellent long-term color and gloss retention, extending the coating system's life cycle in harsh environments," said Brad Rossetto, Vice President, Marketing, Sherwin-Williams Protective & Marine Coatings. "It's a single-component coating that eliminates the hassle of mixing that comes with two-component coatings. This means less product and packaging waste, saving time and cost."
Polysiloxane 1K is an ideal steel coating choice for maintenance or new construction applications in the petrochemical, power generation, marine and general industrial markets.
Fast-drying Polysiloxane 1K utilizes a patented Sherwin-Williams resin and cures with a reaction from atmospheric humidity. It offers low VOCs (<250 g/L), is HAPs free and isocyanate free.
Polysiloxane is available in an Extra White base that can be tinted. It provides protection in a recommended range of 1.5 to 2.5 mils DFT. Application can take place in temperatures as low as 40º F and up to 90 percent relative humidity. It dries to touch within two hours at 77º F and can be recoated within four hours.
http://protective.sherwin-williams.com