Adhesives & Sealants: Rectorseal Smoke and Acoustic Sealant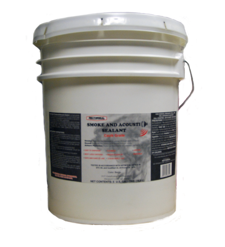 Rectorseal introduces a new Smoke and Acoustic Sealant for use in smoke and sound rated assemblies. This acrylic, latex sealant provides a seal for penetrations and membrane openings, and allows for static or dynamic movement.
Changes to the building code have increased the requirement for Smoke Partition Wall Assemblies, which are designed to restrict the movement of smoke within a building. All joints and through penetrations are now required to have a low air leakage rate (L-rating) in these smoke partitions. Through excessive testing RectorSeal has developed a Smoke and Acoustic Sealant to maintain the smoke characteristics as required by the changes to the codes.
RectorSeal Smoke and Acoustic Sealant provides excellent sound attenuation characteristics in accordance with ASTM E90, and reduces the movement of smoke and airborne particles as demonstrated in air leakage testing modified UL 1479 and modified UL 2079. RectorSeal Smoke and Acoustic Sealant is available in Caulk and Spray grade and is easily applied by caulking gun, trowel, spray or brush and cleans up with soap and water. RectorSeal Smoke and Acoustic Sealant is used in vertical and horizontal non-fire rated assemblies to prevent the passage of smoke and sound.
RectorSeal Smoke and Acoustic Sealant has been tested in accordance to the following standards: ASTM E84, ASTM E90, ASTM E1399, and tested for air leakage in accordance to modified UL 1479 and modified UL 2079. RectorSeal Smoke and Acoustic Sealant's STC rating of 69 is the highest in the market and helps achieve and maintain the STC value of the system designed. This sealant is low in VOC content and meets LEED criteria established under the Environmental Air Quality and Regional Materials. RectorSeal Smoke and Acoustic Sealant is now available through Rectorseal's nationwide network of distributors or by calling Customer Service at 1-800-231-3345.
Founded in 1937, RectorSeal Corporation is a leading manufacturer of chemical and specialty products designed for professional tradesmen. Steady growth over the years has been maintained through a commitment to providing high quality products and services. With a diversified business strategy, Rectorseal aggressively pursues new and unique technologies to serve the construction, plumbing, HVAC and electrical industries. RectorSeal Corporation is devoted to providing innovative quality products supported by strong customer and technical service. RectorSeal is a proud member of the United States Green Building Council (USGBC.)
RECTORSEAL, 2601 Spenwick Drive, Houston, Texas 77055. Phone: (800) 231-3345 Fax: (713) 263-7577.