Adhesives & Sealants: Simpson Strong-Tie AT-XP Adhesive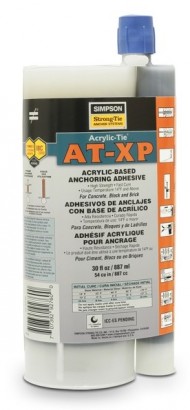 Simpson Strong-Tie Anchor Systems introduces AT-XP Acrylic-Tie – a fast curing anchoring adhesive for uncracked concrete that's specifically formulated for optimum performance in all types of weather conditions, including below-freezing temperatures.
AT-XP dispenses easily and performs with no load reductions in substrate temperatures as low as 14° F (-10 C).
AT-XP adhesive has the easiest hole cleaning requirements of any adhesive anchor on the market today; a hole need only be cleaned with a standard nylon brush and compressed air before dispensing the adhesive.
Rigorously tested in accordance with ICC-ES AC308 and IBC 2009 requirements for uncracked concrete, AT-XP is available in 13 oz. and 30 oz. cartridges for a broad range of applications, including threaded rod anchoring and rebar doweling into concrete.