Snap-on Industrial Plasma Cutters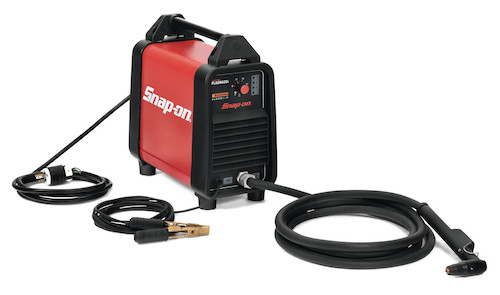 Snap-on Industrial's line of Plasma Cutters can cut up to 3/4" thickness on a variety of ferrous, non-ferrous and high-strength materials.
Snap-on Industrial's Plasma Cutters feature depth-of-cut adjustability, which allows the top layer of material to be cut without disturbing the base layer. Making these cuts possible is inverter technology that drives a small yet powerful package size allowing for portability out in the shop or on the job site.
Performance specifications of Snap-on Industrial's Plasma Cutters:
PLASMA20i
Maximum output amps: Adjustable 5-20
Cut thickness: 1/4"
Sever thickness: 3/8"
Primary input (Volt AC): 115
Primary input: 20 A
Duty cycle rating: 100% at 15 A
Minimum compressed air requirements: 50 PSI at 5 CFM
Torch and ground cable lengths: 12'
PLASMA30i
Maximum output amps: Adjustable 5-25
Cut thickness: 3/8"
Sever thickness: 1/2"
Primary input (Volt AC): 115 or 230
Primary input: 30 A 115 V or 20 A 230 V
Duty cycle rating: 60% at 22 A
Minimum compressed air requirements: 50 PSI at 7 CFM
Torch and ground cable lengths: 12'
PLASMA60i
Maximum output amps: Adjustable 20-55
Cut thickness: 3/4"
Sever thickness: 3/4"
Primary input (Volt AC): 208/230
Primary input: 40 A
Duty cycle rating: 60% at 40 A
Minimum compressed air requirements: 68 PSI at 7 CFM
Torch and ground cable lengths: 18'
Additionally, consumable kits are available for all three plasma cutters that include nozzle holders, nozzles, swirl rings and electrodes. The part numbers for the three consumable kits:
PLASMA20KIT
PLASMA30KIT
PLASMA60KIT
For more information on Snap-on Industrial's line of Plasma Cutters, call (877) 740-1900, or visit https://b2b.snapon.com/