Wexxar Bel BEL 505 V2 Semi-Automatic Case Former
Wexxar Bel's new BEL 505 V2 Semi-Automatic Case Former Reduces Air Consumption by 27%
Giving its classic BEL 505 a makeover, the new BEL 505 V2 brings operators fast ROI through better performance, improved usability and longer machine life.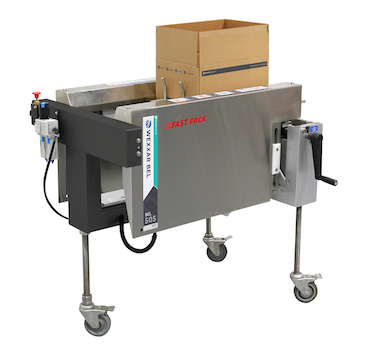 The new BEL 505 V2 semi-automatic case former from Wexxar Bel is the latest iteration of its popular selling BEL 505. The new model brings several major improvements in operational efficiency, including a 27% reduction in air consumption, which significantly reduces the machine's operating costs.
Attributing to this energy savings is an upgraded pneumatic system with folding mechanisms that are faster, stronger and more reliable, while requiring less air. This is important as air is the most expensive energy expenditure in most facilities, so the ability of the BEL 505 V2 to reduce that cost is a major win for customers. For those facilities that have higher costs due to imperfect or inefficient air systems, the BEL 505 V2 gives customers even more savings.
In addition to the reduction in air consumption, the BEL 505 V2 has a wider case-size range with a minimum width of 5". This improvement provides greater flexibility to the machine as more and more companies are utilizing smaller case sizes. This standard minimum width also reduces the cost to purchase for some applications, which would have required a custom modification to the original model.
The BEL 505 V2 is more robust and durable, thanks to the addition of corrosion-resistant materials such as anodized aluminum and stainless steel on most machine components.
Changeovers have also been revamped to be easier and more efficient by removing the locking mechanisms, allowing width changeovers to be performed without having to unlock and relock like the previous BEL 505 model. The machine is also easier to service as the pneumatic controls – operated with a single start / e-stop switch valve, are located at the front as opposed to the bottom of the machine.
Performance specifications of the new BEL 505 V2 include:
Case Size Range – Length
8" / 203 mm minimum
26.5" / 673 mm maximum
Case Size Range – Width
5" / 127 mm minimum
16" / 406 mm maximum
Case Size Range – Height
3.5" / 89 mm minimum
Machine Frame Size – Length
37.375" / 949 mm
Machine Frame Size – Width
25" / 635 mm
Machine Frame Size – Discharge Height
23" – 28" (584 mm – 711 mm)
For more information on the new BEL 505 V2 from Wexxar Bel, visit www.wexxar.com; Wexxar Bel is a ProMach brand.
About Wexxar Bel
At Wexxar Bel, corrugated container packaging applications are limited only by the imagination. Our Wexxar case formers and case sealers have been installed in nearly 40 countries and consistently bring customers the lowest cost of ownership and the highest standards of safety. Wexxar also offers the Bel line of corrugated box sealers, tapers, and packing systems as well as the IPAK line of tray and bliss formers, stackers, and sealers systems. As part of the ProMach End of Line business line, Wexxar helps our packaging customers protect and grow the reputation and trust of their consumers. ProMach is performance, and the proof is in every package. Learn more about Wexxar Bel at www.Wexxar.com.