Swirl-Off Grinding Tool with Dust Muzzle Shroud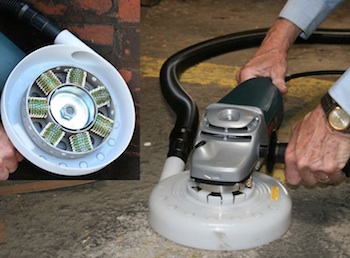 Rapidly remove unwanted material and other hard coatings from concrete and steel surfaces without heavy pressure.
The amazing Swirl-Off tool 
is now available with quick-change cutter assemblies, heavy-duty long lasting carbide 
and high carbon tool steel cutters.
The Swirl-Offtool attaches to 
most grinders with 5/8 - 11 shafts.
For a cleaner, more efficient job; try the new Dust Muzzle attachment for the Swirl-Offtool, which collects dust and keeps the air and surface clean.