Abrasives: Weiler Tiger X Flap Discs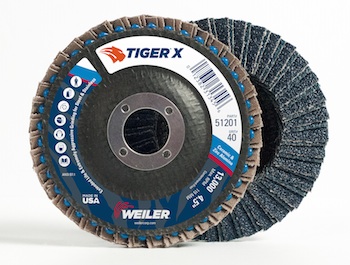 Weiler Corporation announces the Tiger X flap disc, with industry-first technology for faster grinding and a longer life.
"We spent a lot of time working with and listening to our customers, and learned that a universal challenge with abrasives is sacrificing a high cut rate for a longer life cycle, or vice versa," said Tony Hufford, welding and fabrication category manager, Weiler Corporation. "The Tiger X flap disc eliminates that trade-off — they get both benefits in one product."
The Tiger X flap disc features a new X3 industry-exclusive technology that combines a triple split-coat grain anchoring system, dual-flap design and engineered abrasive cloth backing with intermixed ceramic alumina and zirconia alumina materials. This unique combination creates a faster grind rate while increasing life.
The triple split-coat material serves as an advanced grain anchoring system to ensure consistent cut rate throughout the life of the disc without the need to apply more pressure, providing maximum aggression. The resulting decrease in worker fatigue allows for enhanced worker safety and comfort.
The ceramic and zirconia alumina material blend allows for higher initial cut rates and consistent grinding, increasing productivity. These benefits, combined with an overall longer life cycle, decrease consumable costs as compared to other flap discs on the market. X3 technology also allows for greater versatility, due to the reduced need to switch discs when changing applications.
"The Original Tiger flap disc has been trusted by our customers for over 20 years," said Hufford. "With Tiger X, we're raising the bar and providing a premium product that allows users to work safer and get more done in less time."
Tiger X will replace Tiger phenolic-backed flap discs in 4-1/2-inch, 5-inch (angled style), and 7-inch sizes.
For more information about the Tiger X flap disc, visit https://www.weilerabrasives.com.