Walter Enduro-Flex 2-in-1 TURBO Flap Discs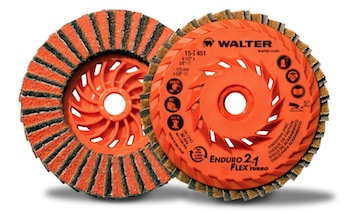 Walter Surface Technologies, the global industry leader in surface treatment technologies, today introduced Enduro-Flex 2-in-1 TURBO, the latest addition to the company's industry-leading Enduro-Flex branded portfolio of finishing flap discs.
This latest product innovation incorporates Walter's proprietary Cyclone technology that contains a high-tech blend of self-sharpening grains and cooling agents and provides ultra-high removal and blending rates without causing surface discoloration.
The Enduro-Flex 2-in-1 TURBO also contains Blendex technology that allows for smoother surface conditioning. With these added features, operators can eliminate the need to switch between multiple abrasives to achieve the desired finish.
The ideal 1-step solution for prep to paint applications
The Enduro-Flex 2-in-1 TURBO is a finishing flap disc designed for steel, stainless steel and aluminum fabricators. Jonathan Douville, Product Manager for Walter Surface Technologies, explains, "there is a growing demand for 1-step solutions in the prep-to-paint steel market, and Walter is the first company to incorporate both speed and surface conditioning technology into a single flap disc." The new Enduro-flex 2-in-1 TURBO allows users to remove material faster using a highly durable, safe and efficient product.
Long-term cost savings
Time means money in today's highly competitive metalworking industry. Compared to a multiple-step application process for weld removal and paint-to-prep finishing, The Enduro-Flex 2-in-1 TURBO helps metal fabricators cut operational costs, reduces abrasives change over and boosts removal rate times, resulting in substantial long-term cost savings.
The Enduro-Flex 2-in-1 TURBO is available in 4 ½'' and 5'' flap discs.