Scaffolds & Ladders: TASC Tower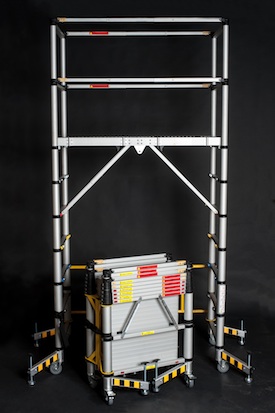 Telescopic Access Solutions Corporation (TASC) is the U.S. trading arm of Teletower Access Solutions Limited based in the UK. TASC began trading in the USA in 2012 with the launch of the world's first and only Telescopic Mobile Access Scaffold – the TASC TOWER and since then has increased the product portfolio to include podiums, telescopic ladders and the recently launched Telescopic Attic Ladder.
Despite launching a new company in a global recession, TASC is gaining a growing reputation for innovative, high quality, safe and sustainable products and has built an excellent customer base in a very short space of time.
The TASC TOWER is a fold down telescopic scaffold that comprises of just two parts, can be erected in under 3 minutes by a single person and can fit in the trunk of a small van or car when collapsed. It offers 7 different heights from 7 inches through 6 feet 6 inches and has a load capacity of 1,164 pounds.
The TASC LADDER is a fully automatic telescopic ladder available in two sizes – 10 feet 6 inches and 12 feet 6 inches. All ladders from TASC are Type 1A rated at 300 pounds and, due to the brilliant automatic rung release system, there is little to no risk of pinching fingers – a typical hazard on many other telescopic ladders.
The recently launched TASC ATTIC LADDER offers an excellent solution to accessing small areas as well as full size attics. Based on our automatic ladder it folds up and stows in a very small area taking up no more than 9 inches of attic space. Available in two sizes. The product launch at the National Hardware Show was extremely well received and is destined to be a big hit in the US over the coming months.
Learn more at: www.Tasc-Tower.com