Scaffolds & Ladders: Little Giant Velocity Ladder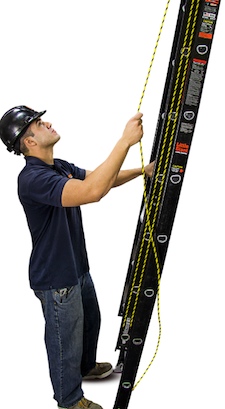 Little Giant Ladder Systems' new Velocity 24-foot extension ladder is now available at Home Depot stores nationwide. Built for contractors, electricians, plumbers, painters and homeowners, the Velocity is now lighter than ordinary extension ladders. The lightweight, industrial-strength fiberglass ladder reduces user fatigue, improves maneuverability and prevents injuries.
"More than half of all ladder-related accidents among professionals are actually strains and sprains caused by repeated handling of extremely heavy traditional ladders," said Ryan Moss, CEO, Little Giant Ladder Systems. "The best way to prevent such injuries is to reduce the weight of the ladder. The Velocity extension ladder is not only lightweight, but also it provides working professionals the durability and safety features needed to get the job done."
The Velocity ladder features Little Giant's side-mounted double pulley rope system, which reduces the force required to raise the fly section by 60%. By moving the rope outside the climbing zone, the Velocity helps eliminate a potential trip hazard.
It is constructed with Little Giant's unique Litewave black resin-fiberglass composite rail technology. This results in an industrial-strength, non-conductive ladder that is now lighter than ever.
The ladder includes three red "Do-No-Climb" rungs at the top to remind users which rungs are safe for climbing to prevent potentially catastrophic falls.
"Not only is the Velocity extension ladder light on the back, it is light on the wallet," said H. Arthur Wing, President, Little Giant Ladder Systems. "Construction professionals and DIYers now have access to the industry's top of the line innovative extension ladder."
Until further notice, the Little Giant Ladder Systems' Velocity 24-foot extension ladder will be available exclusively at Home Depot stores.